OUR HISTORY
Lakeside Academy is located at 4850 Jersey Pike near Highway 58 in Chattanooga, Tennessee.
Lakeside was established in 1959 as a Hamilton County School housing 346 students in grades 1-6. The school reached its peak enrollment in 1969 with 829 students. In 1976, Lakeside was annexed by the city school system and became a K-4 school. In 1989, the Chattanooga Public Schools closed several elementary schools and reconfigured them to a K-5 population. At that time, Lakeside was merged with Booker T. Washington Elementary and became a K-5 school.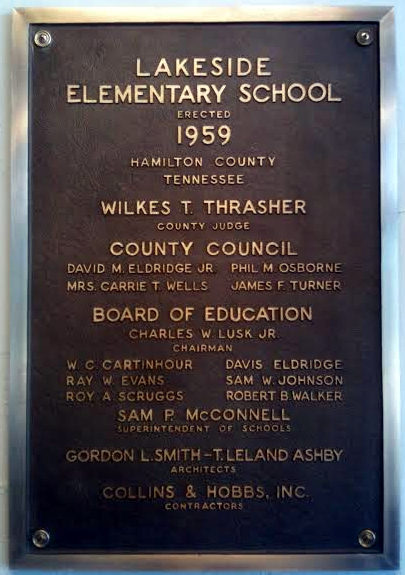 Dedication Plaque, 1959
In 1999 Lakeside Elementary was awarded a federal grant called the Magnet Schools Assistance Program. The goals of this grant included the reduction of minority isolation, comprehensive school reform, increased parent involvement and intensive staff development. Lakeside Elementary became the state's first math, science and technology magnet school and was officially renamed Lakeside Academy. At that time, Lakeside's staff was reconstituted and Mrs. Faye Pharr was renamed principal of the new school. Lakeside restructured its curriculum in order to offer students specialized instruction in the areas of math, science and technology.
Lea Ann Burk served as a consulting teacher for Lakeside Academy and served as the assistant principal at CSLA before becoming the principal for Lakeside Academy in 2002. Upon her return, several new programs began, including differentiated instruction in the classrooms and Fast Forward, a technology-based literacy program. In 2005, the governor of Tennessee initialized a new Pre-K program at Lakeside Academy. Lakeside Academy holds 2 Pre-K classes with 20 students each, a teacher and a teacher's assistant.
Marsha Drake became principal of Lakeside Academy in July of 2006. Under her leadership, Lakeside was able to acquire a brand new computer lab and institute the use of a mobile iPad lab for students. Mrs. Drake also introduced the School-Wide Positive Behavior System (SWPBS). In 2014, Mrs. Drake became Director of Student Services for Hamilton County Department of Education.
On July 1, 2014, Andrea Johnson became principal of Lakeside Academy. Mrs. Johnson has been with Hamilton County Department of Education since 1995 and served as assistant principal at Lakeside from 2010 until 2012.
In 2016, Lakeside Academy was awarded a grant totaling nearly $50,000 from The Leonore Annenberg School Fund for Children through the Public Education Foundation of Chattanooga.